Corporate Gatherings Have Been Canceled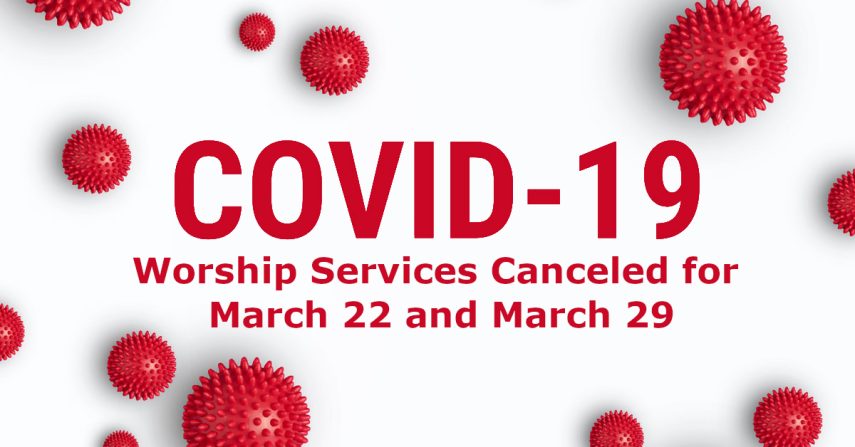 Dear church family,
It is with a heavy and grievous heart that I write this email. This past Monday afternoon, the President of the United States issued a request that all citizens refrain from gatherings of more than ten persons for the next 15 days (until March 31). Additionally, in Romans 13:1-6 scripture states (emphasis added), "Let every person be subject to the governing authorities. For there is no authority except from God, and those that exist have been instituted by God. Therefore, whoever resists the authorities resists what God has appointed, and those who resist will incur judgment. For rulers are not a terror to good conduct, but to bad. Would you have no fear of the one who is in authority? Then do what is good, and you will receive his approval, for he is God's servant for your good. But if you do wrong, be afraid, for he does not bear the sword in vain. For he is the servant of God, an avenger who carries out God's wrath on the wrongdoer. Therefore, one must be in subjection, not only to avoid God's wrath but also for the sake of conscience. For because of this you also pay taxes, for the authorities are ministers of God, attending to this very thing." Therefore, in light of the President's request and in light of God's word, we the elders have made the difficult decision of canceling all church functions until further notice (i.e., Corporate Worship, Life Groups, LEAD, BFA, C&C, etc.).
However, in the place of corporate worship, we will upload a video of the Sunday message to the church website delivered by Pastor Hexon on Sunday at 10:15 AM. Simply visit the church website (www.tapestrycommunitychurch.org). The video will no longer be available once the message is complete. We will also embed into our church website two worship videos we encourage you to play and sing together as a family prior to the message being delivered. The worship songs can be accessed anytime Sunday morning; however, you will not be able to access the sermon until 10:15 AM. Thus, we encourage you to sing the songs between 10:00—10:15, and then watch the sermon video. If you do not have internet access or would simply prefer not to be alone, we encourage you to gather with one other family and worship together (not to exceed 10 persons). You may also consider inviting single members of our church or couples without children to worship with your family. We know this is not ideal, but at least in this way we will all still be worshiping, praying, and listening to the message together in spirit, even if geographically separated. This will be done for at least the next two Sunday's or until further notice. We know this falls far short of gathering for corporate worship, but we are doing the best we can to adapt to a very fluid situation and to live in obedience to God's Word. Once again, this Sunday morning visit our church website, play the two worship videos and sing along, and then watch the sermon video. We will be covering "The End Times according to Jesus (Part II)" from Matthew 24:4-28.
Lastly, Pastor Hexon will be available in his office Monday-Thursday during regular hours, and afterhours if needed, and Pastor Raymond is available most evenings, for anyone desiring prayer, counseling, or spiritual encouragement during this difficult time. Please do not hesitate to call either of us for a time to visit.
In Christ's love,
The Elders